Unlike straight hair, curly hair tends to lack moisture and dry out easily, making it harder to maintain. It is more common for people with curly hair to have oval or asymmetrical follicles. Genetics plays a major role in this. Here are some tips and tricks to keep your natural curls healthy and bouncy if you want them to shine and bounce more.
Choose A Suitable Shampoo.
No matter what the texture of your hair is, washing it is the first and foremost step in any hair care routine. Keeping your scalp clean ensures that there is no dust, excess oil, dead skin cells, or product buildup. You should use a mild shampoo free of toxic chemicals such as sulfates, silicones, alcohol, and parabens that can irritate your scalp. Your hair care products contain sulfates as lathering agents and parabens as preservatives. Consider shampoos that contain mild surfactants, fragrance-free formulations, sulfate-free ones, silicon-free ones, and paraben-free ones.
Style Curly Hair When It Is Wet.
It's best to use two products, although the products differ depending on your hair density. Use a lightweight curl enhancer after a body-building volume foam to enhance your fine curls. Use a cocktail curl definer with curl control if your hair is medium to thick or slightly coarse. Curls receive maximum performance benefits by applying products from roots to ends and combing them with a wide-tooth comb to undo any knots and ensure even distribution of the products. Using small sections from the underneath up, gently cup, scrunch, and squeeze curls. It is not a good idea to run your fingers freely through your hair-this disturbs the curls, resulting in frizz.
Don't forget: Cup, Squeeze, Scrunch
Air-Dry Your Curly Hair.
In my experience, air-drying is the best way to maintain curly hair, but if you are rough with the towel against the hair, that will cause even more frizz. If you have curly hair, I recommend air-drying. You should avoid touching your hair while it is drying. A lot of handling results in frizz, so the more you handle the hair, the more likely it is to frizz.
Apply Moisturizing Products To The Maximum Level.
Moisture is essential for curly hair. As the season changes, dryness can creep into our ringlets and cause our coils to tangle. Keep your curls, coils, and tight textures soft, defined, and tangle-free by infusing moisture into them. The key to moisturizing curly hair is inserting moisture at every stage of washing, styling, and maintaining it.
Always Use A Wide Toothed Comb.
Taking care of curly hair involves brushing it properly, and there are a few steps you can take to prevent frizzy hair and snagging. Here are some tips for detangling and brushing curly hair:
Step 1. Make sure you add moisture. You should only brush curly hair when it's wet, damp, or has a layer of slip between the strands and the bristles. You can easily loosen your curls by brushing dry hair, which is an instant recipe for frizz. When curly hair needs more moisture after washing (with a sulfate-free shampoo), reach for your favorite curly hair products. Add a leave-in conditioner like tgin Green Tea Super Moist Leave In Conditioner to your hair care routine.
tgin Green Tea Super Moist Leave In Conditioner
Step 2. Ensure that you detangle your curls thoroughly. By using a comb on curls, you can smooth and separate them in such a way that each coil becomes more defined. By applying a good coating of detangler, you can ensure that your hair is knot-free. It is best to use a detangler that has a lot of slip, as this will make it easier for the brush to glide through the hair.
Step 3. If a brush is hitting your curls, you should start at the tips and work your way up to the roots, whether you're detangling or styling. Doing this can prevent tugging at the follicles and possible hair shedding.
Step 4. Evenly brush your hair. It is also important not to brush the same area too often. It can result in loosened spirals in one section of your hair while tight spirals in another section over time. Check Flora & Curl Gentle Curl Comb if you're looking for a perfect comb for curly hair.
Flora & Curl Gentle Curl Comb
Avoid Over-Washing Your Curly Hair.
It's not a one-size-fits-all solution when it comes to how to wash curly hair. There is no universal answer to the question, "How often should you wash your hair?" Ultimately, it depends on your curly hair shampoo, personal preference, and your natural curls. So there's a good chance you should be cleansing more often than you have been or think you should be. Understandably, curly hair has reservations about being overwashed. Because it's the driest, it's more prone to damage, breakage, and disruption of curl patterns. It's important to remember that water is your friend if you have natural hair. You can absolutely make the most of each shampoo session when you use the right curly hair products and follow the right hair washing routine.
Condition Before You Shampoo for Best Results
Use conditioner before shampooing if your hair feels weighed down, flat, or greasy after conditioning. It is also known as reverse hair washing or pre-wash conditioning. It doesn't seem harmful to try either method if you think it might work for you. By conditioning, before you shampoo, you can add nourishment to fine hair without weighing it down.
When it comes to conditioning before shampooing, there are no rules. Your hair type and texture play a major role in this decision. The most benefit of reverse hair washing is seen in those with fine, oily strands. However, you will experience healthier hair even if you have thick, curly hair if you use this technique. You can only achieve this result if you apply conditioner from mid-shaft to tips before you shampoo your scalp and ends. In addition to products designed specifically for reverse washing, you can use products you already own. Check tgin Rose Water Frizz Free Hydrating Conditioner & tgin Triple Moisture Replenishing Conditioner if you're looking for a suitable conditioner for your curly hair.
tgin Rose Water Frizz Free Hydrating Conditioner
tgin Triple Moisture Replenishing Conditioner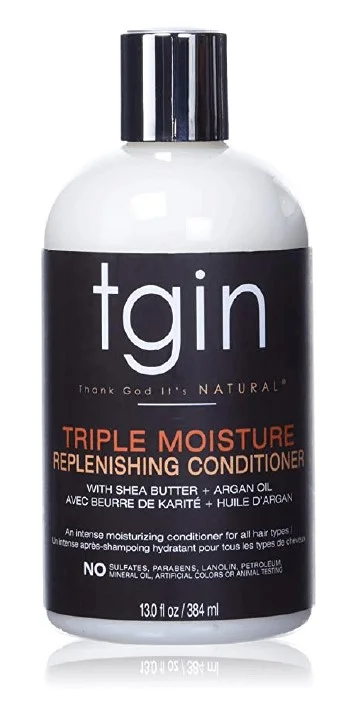 Use Only Silk or Satin Pillowcases.
You can do so if you prefer a satin pillowcase over a bonnet, which is easier for curly girls. Additionally, satin pillowcases help you sleep better and maintain healthy curly hair. Silk pillowcases can help your hair retain moisture throughout the night, unlike cotton pillowcases. Curly hair can benefit from this because it will reduce frizz and dryness. Aside from being soft, silk can also help maintain a hairstyle. Check SHHH Silk Pillowcase If you're looking for a suitable pillowcase for your curly hair.
SHHH Silk Pillowcase
Frequently Asked Questions About Taking Care OF Naturally Curly Hair:
In terms of curl types, what is the rarest?
Type 1A hair is the rarest type, usually found in Asians. Type 1A hair is soft and shiny, as well as the least likely to suffer from damage. However, it tends to look very oily and does not hold curls well.
How can you recognize if your hair is naturally curly?
When you wash your hair next time, make sure you thoroughly wet it before stepping out of the water. Check your hair to see if it's curling into waves or ringlets. You're probably a curly girl if that's the case.
What is the best way to bring out my natural curls?
1. Use a shampoo without sulfates to wash your hair.
2. If you want to define your curls, use a curl-defining conditioner.
3. Use a leave-in conditioner.
4. Use your fingers to comb your hair.
5. Scrunch the curl crunch.
6. Let the hair air-dry.
7. Consider using a diffuser.
8. Keep your hands off!
How does curly hair compare to straight hair in terms of strength?
The tighter the curls, the more fragile the hair strands. Curly hair is more delicate than straight hair. Therefore, it is more prone to breakage.
Do curly hair strands change during the aging process?
Curly and coily hair, like other sorts of hair, becomes thinner and weaker as we age. It will become more prone to breakage and dryness than other hair types. If you're looking to add more bounce and shine to your naturally curly hair, the proper hair care routine and hair care products can keep your curls healthy and looking good.
In this blog, we discussed some of the most important tips related to caring for curly hair. If you know other tricks and methods, comment below. This could be a great help for those with the same curl pattern, and also it can help you find your curl community.