Curly natural hair is dry by nature, and that means you have to put too much effort into hydrating it. This is why the Maximum Hydration Method (MHM) is so popular today among those who have curly hairs, especially curls with low porosity. You have probably heard of MHM before, so if you're looking to nourish your coily, curly, or wavy hair with instant moisture, in this blog post, You'll learn all about Max Hydration Method and get step-by-step instructions on how to use it.
What Is The Maximum Hydration Method?
Maximum Hydration Method is a hair care routine that provides natural curls with low porosity and 4C hair with maximum moisture. By doing it every day for one week, this regimen will open up the hair cuticles so they will absorb a great deal of moisture. After one week, the regimen should continue every three days, but not longer. Starting with the Cherry Lola treatment, which combines nourishing ingredients to help boost moisture, after cleansing, co-washing, rinsing with bentonite clay, applying a leave-in conditioner, and applying the gel, the routine is going to nourish and strengthen your hair over the long process. certainly, for those with severely dry and brittle hair, this method is a lifesaver. Even though it is useful for low porosity curls, you can use it for other hair types with a few changes.
What Are The Benefits Of Maximun Hydration Method?
Increase In Hair Definition
Curls become clumpy and defined when the Max Hydration Method is used from root to tip. To achieve the maximum curl definition in your hair, it takes several treatments beginning with the first one.
Restoring Moisture And Promoting Moisture Retention
For dry and frizzy hair, the Maximum Hydration Method is extremely beneficial. It will hydrate your curls and promote moisture retention in dry hair by delivering moisture and hydration.
Reducing Hair Shedding
Maximum Hydration Method prevents tangles from happening and leads hair both to less shedding and fewer SSKs(single strand knots).
How To Do The Maximum Hydration Method?
Pre Step (Cherry Lola Treatment)
If your hair is low porosity, you must apply the Cherry Lola Treatment first. This product lifts and opens the hair cuticles to prepare them for optimal absorption of moisture. It can be done once every two weeks after the first time, but no more often than that. You should not repeat the treatment every two weeks, especially if your hair is high in porosity. Generally, this treatment can be done a few times a year without side effects.
Here's How To Do Cherry Lola Treatment:
In a bowl, combine 2 tbsp of baking soda, 2 cups of plain yogurt, and 2 tbsp of amino acids.
Mix the mixture and apply it to your hair. To ensure even distribution, you can first divide it into 4 to 6 sections. After spreading the mixture to each part, twist or braid it up to secure it.
Apply a plastic cap and allow the treatment to run for up to half an hour.
Proceed to Step 1 after rinsing the mixture from your hair.
Step 1 (Clarifying Your Hair)
Clarifying your hair is the second step in the Maximum Hydration Method. to sum up there are a few options: shampoo, baking soda, conditioner, or apple cider vinegar (ACV).
Clarifying Shampoo
When it comes to clarifying your hair with shampoo, you'll need to use a sulfate-free clarifying shampoo made with natural ingredients that nourish your hair. like Bounce Curl Gentle Clarifying Shampoo. This shampoo thoroughly cleanses your hair without dehydrating it. You simply need to wet your hair thoroughly, apply the shampoo, and rinse well. Your scalp is where buildup accumulates, so be sure to focus the shampoo on that area.
Bounce Curl Gentle Clarifying Shampoo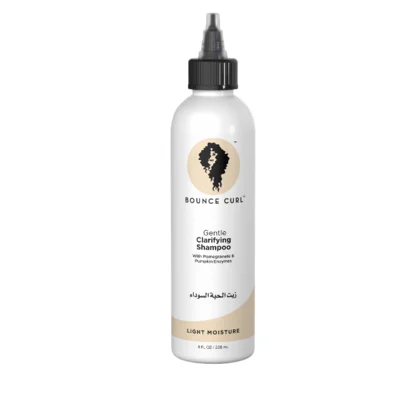 Apple Cider Vinegar Mix
Combine one part of Apple Cider Vinegar with one part of water. Apply the mixture to your scalp and massage to remove dirt. In addition, apply the remainder of the rinse to your hair. Rinse thoroughly when the hair is clean. To make the process easier, you can put the Apple Cider Vinegar mixture in an applicator bottle.
Conditioner And Baking Soda Mix
Combine ⅓ cup of a sulfate-free conditioner and ½ tablespoon of baking soda and then apply it to your dry hair. After 15-30 minutes, rinse the mixture out of your hair and proceed to step 3. If you're looking for a sulfate-free conditioner, check tgin Triple Moisture Replenishing Conditioner.
tgin Triple Moisture Replenishing Conditioner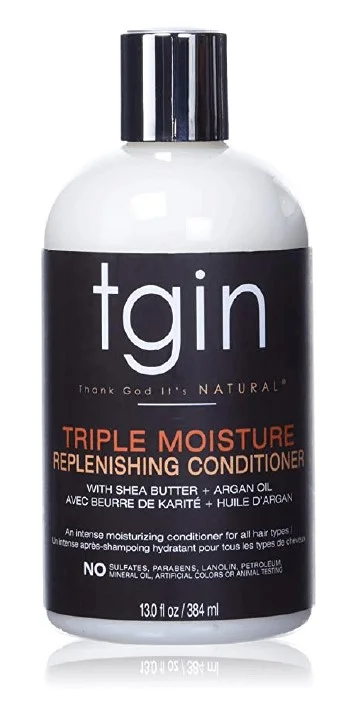 Step 2 (Co-washing And Detangling)
Separate the hair into sections. On each section, apply a sulfate-free conditioner and gently detangle your hair. You can detangle with a wide-comb, Denman brush, or your fingers. After detangling, pin them up and let the conditioner sit for 15-20 minutes with a plastic cap on, and then wash your hair.
Step 3 (Clay Washing)
Using clay wash not only cleans your scalp and hair, but most importantly makes them thicker, shinier, and more resilient.
Here's How To Do Clay Wash:
Mix 1 cup of clay with 1 cup of water with a whisk. For some added moisture, you can add a tbsp of olive oil or raw honey to the clay.
Section your wet hair and apply the clay.
You should allow the clay to sit for up to 15 minutes after applying it to all of your hair.
Make sure you rinse your hair thoroughly without breaking it. Before touching your hair and moving it around, let the water soften the clay.
Step 4 (Applying Leave-in Conditioner)
After completing the clay rinse, While hair is still soaking wet, split hair into sections and apply a sulfate-free, leave-in conditioner. You can learn more about leave-in conditioners in Leave-in Conditioners: Best Options For Your Curls.
Step 5 (Applying Hair Gel Or Cream)
Apply the hair gel over dripping strands and work it through with your finger to lengthen them. By doing so, you will enhance the definition of your hair. Immediately after applying your gel, try shaking your head from side to side and up and down to separate your curls without touching them and causing frizz.
Optional Step (Stretching)
To make the most of your length, we recommend stretching your hair. In short, the quickest way to stretch your hair is to separate it into three to five sections and lightly twist each section. After twisting your hair for at least a half-hour, take the braids down.
Frequently Asked Questions About Maximum Hydration Method:
Can the maximum hydration method last for a long time?
This method consists of four steps that should be followed continuously for a week. However, it's recommended that you stick with it for seven days before making any changes.
How often can I get a hydration treatment for my natural curls?
It is recommended that you deep condition your hair every two weeks, but if that is too much for you, you can also do it once a month. You should perform the treatment every two weeks, while you can do the other steps of maximum hydration every week. The use of hydrating products too frequently can deplete your strands of moisture and cause more harm than good.
In what ways does hydration treatment benefit my hair?
In order to keep hair moisturized, improve manageability, prevent dryness, and give it an overall good appearance, hydration treatments help improve the hair's ability to absorb and retain moisture.
Share your ideas in the comments if you found the Maximum Hydration Method useful. This can be very useful for those who have your hair type. Have you ever tried this method? Does it help with your curly hair health? Share your experience with us in the comments