Almond oil can provide many health benefits for your hair and skin. It has been used by many people for a long period of time. A wide range of hair products, including shampoos, conditioners, masks, scalp scrubs, and styling products, contain almond oil as a moisturizer. This post will check out the benefits this oil can provide for your curls. Don't miss this post if you want to try a new method for improving your hair.
What is almond oil?
Almond oil is full of nutrients and is extracted from the seed of ripe almonds. This oil has many uses such as aromatherapy, cooking oil, and hair and skin products. But, we are mainly looking for its benefits for your hair and scalp. Almond oil comes in two main varieties. Bitter almond oil and sweet almond oil. There are several types of almonds used in their production. Bitter almond oil is an essential oil (concentrated from almond extracts), whereas sweet almond oil is very similar to other oils. We usually refer to sweet almond oil when we talk about almond oil.
Benefits of almond oil for your hair and scalp
Now that you know a little about this oil, it's time to take a closer look and see how it benefits our hair and scalp.
Almond oil can moisturize your hair
The first thing that this great oil can provide is moisturization for your hair. It contains oleic acid (an omega-9 fatty acid) and linoleic acid (an omega-6 fatty acid) and also palmitic acid which are great for moisturizing your hair and locking it in. These ingredients are similar to the natural oil on our scalp and hair which makes them an amazing option for moisturizing your hair.
It can prevent breakage
This oil can also help to prevent breakage. Breakage can be really frustrating when your want to achieve length and volume. Breakage mostly happens when you are detangling, and your hair is dry and brittle. You can try to add almond oil to your detangling process to make things easier and reduce the chance of breakage. It can also be a great option for improving your hair elasticity.
It can protect and repair your hair and scalp
Almond oil is enriched with vitamin E, which has amazing antioxidant abilities. This makes almond oil a perfect oil for protecting and repairing any damages. It is also amazing for improving blood circulation which is great for enhancing your hair growth.
It is amazing for preventing and soothing inflammatory scalp conditions
A healthy scalp is very important for having healthy hair. This oil has antimicrobial and anti-inflammatory effects which can prevent scalp irritation and other problems. This is good news for anyone who has been dealing with scalp issues. Just try this oil once to see the great results.
Almond oil can enhance hair growth
If you take a look at the previous benefits of this oil, you will notice that almond oil can moisturize, protect, and repair, and it can also be amazing for your scalp. This means that it is also a perfect way to enhance hair growth. With all of these benefits, you won't need any other things to improve hair growth.
It can condition your curls
You can also use sweet almond oil to condition your hair. Many people add a little bit to their conditioner when they wash their hair, while others use it daily. Make sure you apply water to your hair before applying the oil if you are using this oil as part of your daily routine. As we mentioned above, this oil can be used in many hair care products such as tgin Triple Moisture Replenishing Conditioner due to its awesome features.
tgin Triple Moisture Replenishing Conditioner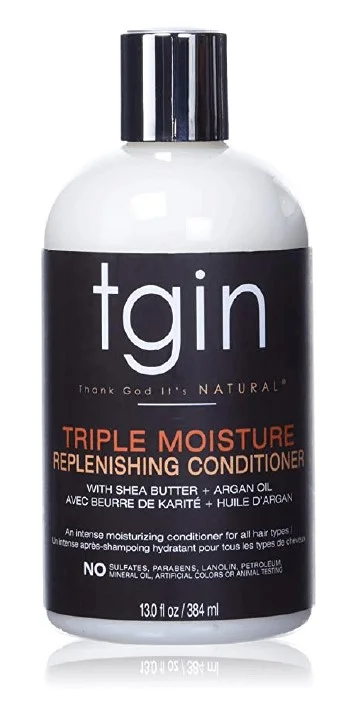 Which hair type can benefit more from almond oil?
Almond oil, unlike heavier oils such as argan or coconut oil, makes hair easy to manage regardless of the type: thick, fine, curly, wavy, straight, or natural. Because it's so lightweight, it's great for all hair types. Almond oil applied to dead ends will benefit frizzy and unruly hair the most.
How to use almond oil for curly hair?
You can use it as hair oil.
Hair can be transformed from dull to lustrous and manageable condition with almond oil in just a few seconds. You can apply almond oil to damp hair by placing a couple of drops into your palms, rubbing them together, then running your fingers down the length to promote shine.
Wash out your hair with the mixture of almond & olive oil.
For extra luster and softness, apply almond oil & olive oil mixture to severely damaged or brittle hair.
To treat flaky skin, apply it to the scalp.
A natural, soothing treatment for inflammatory scalp issues like psoriasis is almond oil. Mix almond oil with anti-inflammatory chamomile oil and massage it into your scalp if you have raw and irritated scalp; Also, if you have dandruff, mix lemon oil in. Then after this treatment, shampoo your curls.
Frequently Asked Questions About Almond Oil:
How can I use almond oil on my curls?
Rub a small amount of almond oil between your palms before applying it to your hair. Pay special attention to the ends of your hair if you want your hair to shine and feel soft. After styling your hair, massage the oil into the end of the shaft.
Is almond oil beneficial for frizzy hair?
You can use almond oil to calm unruly hair. When applied as a leave-in treatment, almond oil may reduce frizz and damage to hair. By infusing hair with moisture and nutrients, almond oil prevents routine damage caused by brushing, heat styling, and coloring.
Is almond oil safe to use on my hair every day?
It is not recommended to use almond oil daily. In addition to clogging hair pores, almond oil attracts dirt, causing dandruff to accumulate. Oiling your hair every day requires you to wash it with shampoo, which is not ideal if you want your hair to be soft, lustrous, and healthy.
Does almond oil work better on dry hair or wet hair?
The benefits of almond oil for wet hair are numerous. Here are the steps you need to follow. Take a wide teethed comb and comb through your wet hair. Rub almond oil on your scalp once your hair is detangled.
Is it okay to sleep with almond oil in my hair at night?
Almond oil has emollient properties that soften and remove dead skin cells from the scalp. Let almond oil sit on your scalp for at least an hour before taking a bath. If you want maximum results, you can even leave it overnight.
If you have found any method that works for your hair, feel free to share them in the comments. This can be very useful for those who have your hair type. Have you tried almond oil for your curls? How did it improve your hair? Share your experience with us in the comments.