Hair oil is an important part of maintaining healthy curly hair. You can use hair oils in many ways and it can provide many benefits for your hair. In this post, we are going to tell you everything you need to know about hair oils. So, if you want to try hair oils or just want to get some extra information about them, this post is what you are looking for.
Benefits of hair oils
As I mentioned earlier, hair oils can be really effective and provide many benefits for your curly hair. Now, let's take a closer look at these hair oil benefits:
Prevents damage and breakage
The first and one of the important benefits hair oils can provide for your hair is preventing damage and breakage. Hair oils can nourish and strengthen your hair and protect it from damages that can happen to it. If you start using hair oils for your hair regularly, you will notice the difference and improvement it can provide.
It can reduce dandruff
Another benefit that oils can provide for you is reducing dandruff on your scalp. It is not going to solve all the problems, but it can be helpful for removing dry, flaky, and itchy skin of your scalp. All you need is to massage oil on your scalp to moisturize your scalp and remove dry skins. If you want to try a great hair oil for removing dandruff and dry skin, tgin Tea Tree + Olive Oil Detoxifying Hair And Scalp Serum is a must-try for you.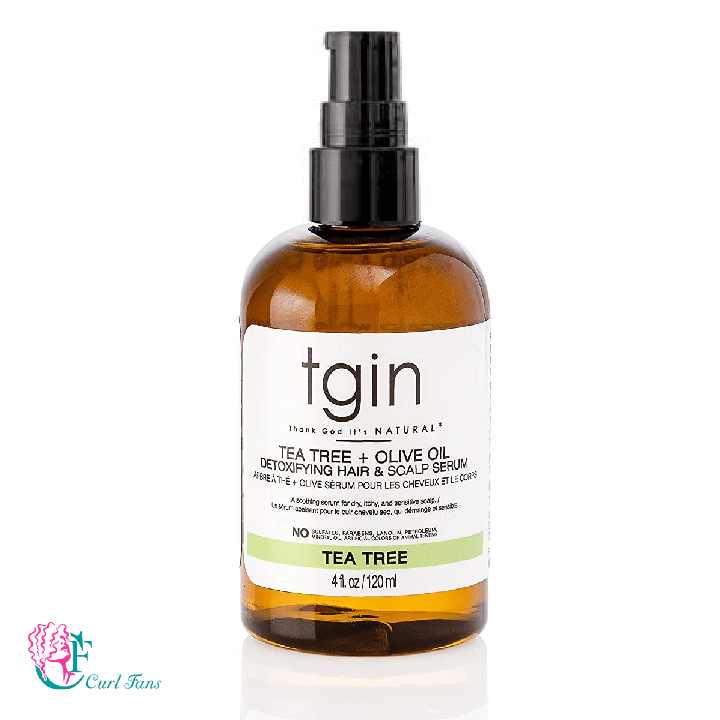 Hair oil can help with preventing premature graying
If you are looking for an easy way to reduce and prevent premature graying, you can easily use oil for your hair. One great choice can be coconut oil. Coconut oil will go deeply into the hair cuticle, then it will nourish and provide nutrients that your hair has lost.
It can also reduce the amount of frizz
If your hair always gets too frizzy, you can solve it by adding oil to your hair regimen. Oils that are filled with vitamin E and fatty acids are great for reducing the amount of frizz. Hair oils can lock in the moisture and keep it in for a longer time. This means that your hair will stay hydrated, frizz-free, and moisturized longer.
What kind of oil should I use?
There are lots of oils available out there and it is important that you know which one is right for your hair.
Dry hair:
These oils are great when you have dry hair with lots of frizz.
Almond oil
Avocado oil
Castor oil
Cocoa-butter
Coconut oil
Jojoba oil
Manketti oil
Rosemary oil (mix with a carrier oil, like coconut or olive oil)
Sesame oil
Hair oil for dandruff:
These oils are great if you want to remove dandruff and dry skin from your scalp.
Almond oil
Castor oil
Coconut oil
Grapeseed
Jojoba oil
Tea-tree oil
Improve hair growth with this hair oil
You can also use some oil to increase and enhance your hair growth. One great, award-winning product is the Alikay Naturals Essential 17 Hair Growth Oil. This oil is enriched with 17 essential oils and herbs which can increase your hair growth by making the hair follicles stronger. So, if you have problems with hair growth, this is a great and easy way to improve your hair.
If you have found any method that works for your hair, feel free to share them in the comments. This can be very useful for those who have your hair type. How often do you use hair oils for your curly hair? Do you use it as hot oil treatment or regular use?