As you all know having curly hair and using brushes don't go that well together. And we always try to avoid using them. It's really important to know what is the best way to use hair tools; Therefore, follow me through this post to understand how to remove tangles and knots from your hair.
What Causes Tangled Hair?
Tangles occur when the outer layer of your hair (cuticle) is damaged and opens up. Damaged cuticles block one another and form knots. When two single strands of hair become intertwined, they form a hair knot. Removing the knots (tangles) becomes difficult whenever this happens to a few strands. It is important to note that smooth or silky hair is not prone to tangles, but damaged and textured hair (curly or wavy) is more at risk.
All of the below factors can have a role causing hair tangling:
Harsh hair care products
Massaging hair too hard while shampooing
Over-washing
Lack of hydration
Heat styling
Rubbing hair with a towel
Wind blowing through your hair
Not brushing hair daily or overbrushing
Sleeping with your hair down
Split ends
How Often Should You Detangle Your Hair?
Removing tangles is an essential step in all hair care processes. Like different curl types, there are many ways to detangle your hair.
To answer the question of how often, we should know our hair texture. Besides that, it also depends on the specific hair type. Check Hair Type – Every Thing About It if you want to realize your hair type. The best method is to detangle your hair on wash days, this can be once a week or every other day.
You may want to know when you should wash your hair. Well, this depends on many factors such as climate, the amount of activity you have, and also the scalp oil. It is recommended to wash hair at least once a week, but you may want to wash more. According to this, you should also detangle at least once a week. If you want more information on how to wash your curls properly, check out Best Way To Wash Your Curly Hair.
How To Detangle Your Hair?
All types of hair experience hair knots, regardless of their texture or length. Removing a hair knot without damaging your hair is not an easy task. However, it is not impossible either.
Detangling hair knots can be difficult. Products such as hair oils, hair masks, and even hair conditioners can remove knots easier. If your hair is wet, it is advised not to remove knots. Because if you try to detangle wet hair, you are likely to break your hair. Once the hair is dry, try using a wide-toothed soft bristle comb to remove the knots. As I said, how you detangle depends on your hair texture and type.
For dry and tightly curled hair: You can start detangling wet hair by adding a slippery conditioner. If you want extra detangling, you can use coconut oil to finger detangle before wet detangling.
For looser curls, and heavier density hair types: First, you can use penetrating oil like argan to spray lightly. Then, use a paddle brush to detangle dry hair while having a cleansing session. After this cover your strand with a smoothing conditioner before you comb or brush.

Here are some proven ways to detangle your hair without causing damage:
Conditioner
Hair conditioning is one of the essential steps in good hair care. It also helps detangle the hair. Starting at the tips, apply a conditioner to the roots and work your way up. The scalp does not require a conditioner. Leave the conditioner for 5 minutes, comb your hair to detangle, but be gentle because wet hair is more prone to shedding and then rinse. Check tgin Rose Water Frizz Free Hydrating Conditioner if you're looking for a perfect conditioner for your hairs.
tgin Rose Water Frizz Free Hydrating Conditioner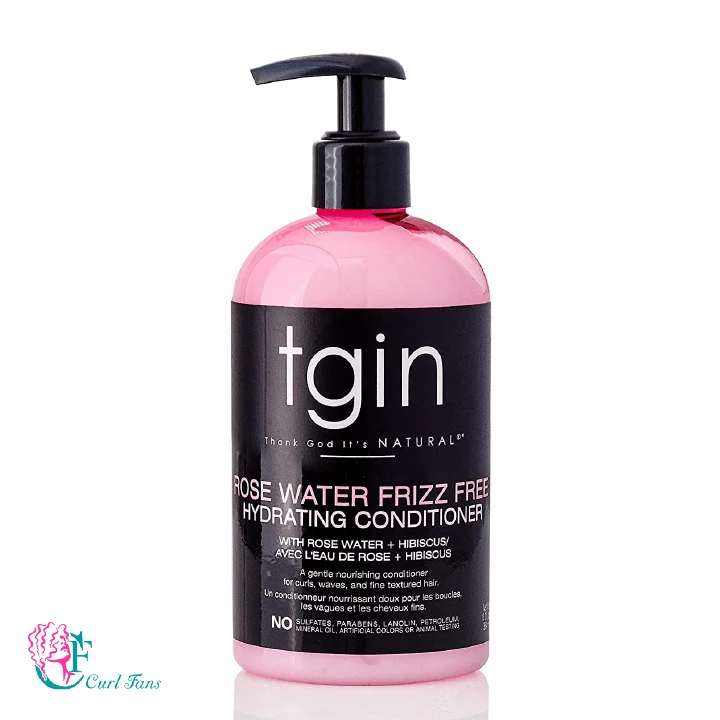 Detangling Spray
Detangling hair spray helps reduce the tension between the hair while detangling. In addition, it is a quick fix when you are out of time. You can use detangling sprays on dry or damp hair. They do not need to be rinsed. Sprays like these contain shea butter which softens hair, making detangling easier.
Oils
You can use mineral oil to detangle your hair effectively. Mineral oil acts as an antistatic and removes tangles. You should condition your hair just enough; too much residue in the hair interferes with mineral oil's ability to remove tangles.
Your hair may feel more brittle after you detangle it. Give your scalp and strands a few drops of olive oil and let them absorb the oil for twenty minutes. You can either sit under a steamer or wrap a warm towel around your head.
Regularly oil your hair to prevent dryness. You can use a carrier oil like coconut oil, olive oil, castor oil, sweet almond oil, and essential oils like lavender, tea tree, or rosemary. Check Alikay Naturals Naturally Unique Loc Oil if you're searching for a perfect oil for your haircare routine.
Alikay Naturals Naturally Unique Loc Oil
Water
It is easier to detangle hair when it is moist. This prevents harsh pulling of the hair. Spray some water on your hair. Take sections of hair with your fingers, comb them with a wide-toothed brush and clip the detangled hair with a secure hair clip. Repeat for all your hair sections.
Wide-toothed comb
Wide-tooth combs and paddle brushes help detangle hair in a much painless way. They're gentle on your hair. Check Flora & Curl Gentle Curl Comb if you're looking for a wide-toothed comb to get rid of your hair tangles.
Flora & Curl Gentle Curl Comb
Begin from the bottom
Almost all of us mistake combing our hair from the roots. Begin at the bottomand gently comb upwards from the bottom. As a result, you can avoid hair breakage and pain on the scalp caused by aggressive pulling.
Use your fingers
Separate your hair into sections with your fingers before reaching for the comb. Using this method, you can remove most of the tangles before combing your hair.
Hair masks
Tangled hair is a sign of dry hair. Provide your hair with instant hydration by applying a hair mask packed with moisture. There are many hair masks on the market, or you can make one at home with simple ingredients such as egg, yoghurt, honey, and banana that can help you remove you hair tangles. Check tgin Rose Water Hydrating Hair Mask if you're looking for a Suitable hair mask for your hair.
tgin Rose Water Hydrating Hair Mask
Tips To Maintain Your Tangled Hair
If your hair gets tangled easily, brush it before you wash it.
Wear braids to keep your hair in place and avoid tangles.
Wear a scarf or a hat to prevent your hair from tangling on windy days.
Get your hair trimmed every 4-6 weeks. Split ends cause your hair to look damaged and dry because they cause tangles.
You should not rub your hair with a towel as this can cause tangles. To dry your hair, wear a soft cotton t-shirt.
Don't sleep with your hair open. A gentle updo might be a good idea.
Switch to silk pillowcases and avoid knotty hair the morning after.
Avoid overusing shampoo to create more lather because more foam doesn't mean more efficient cleaning. Additionally, it does more harm than good.
Share your ideas in the comments if you found this article helpful. This can be very useful for those having your hair type. Have you ever tried the above methods & products? Does it help with detangling your curly hair health? Please share your experience with us in the comments.