Conditioning and using moisturizers are an important part of the curly hair routine. But, you shouldn't forget about using a protein treatment for your hair. Protein treatment is an amazing way to strengthen your curls and prevent lots of future problems. If you want to know why is it necessary, this post is here to help you.
What is protein treatment?
Let's see what our natural hair is made of before we talk about protein treatment. Our natural hair is made of 80 to 85% of a protein called keratin. If you have damaged your hair with heat or coloring, protein treatments can help you revive your curls. It can strengthen your hair by filling the gaps in your hair cuticle. If you want to get the result you want out of protein treatments, you should try them regularly.
Key ingredients of a protein treatment
Now, let's take a look at the key ingredients to look for in protein treatments.
Hydrolyzed Proteins
This type of protein can easily be absorbed. This means that it will go into your hair shaft and fill the gaps in the hair cuticle. You can find these kinds of proteins by these names: hydrolyzed wheat protein, hydrolyzed silk protein, hydrolyzed keratin and hydrolyzed baobab protein.
Amino Acids
This type is great for hair growth and enhancing your hair elasticity. Amino acids can also be amazing and very effective for your curly hair. If you are looking for a way to repair damages and prevent moisture loss, silk amino acids can help you with that. Some amino acids for hair growth are cysteine, lysine, methionine, and arginine.
Natural protein-rich ingredients
You can easily nourish and improve your curly hair with natural protein-rich ingredients. If you want to try natural ingredients to improve your hair, use eggs, yogurt, and coconut oil to strengthen your hair naturally.
How to know that I need protein treatment
There are some signs that you can check whether you need protein treatments or not. Here is a list of these signs:
Over moisturized hair needs protein treatments
If your hair is over moisturized then it's time to try a protein treatment. If your hair is over moisturized, it feels too soft and limp. This is a sign of hygral fatigue, and it happens when you moisturize your hair too much. A protein treatment can be really helpful when this problem happens. If you want to try a great protein treatment for your curls, take a look at tgin Miracle RepaiRx Curl Protein Reconstructor.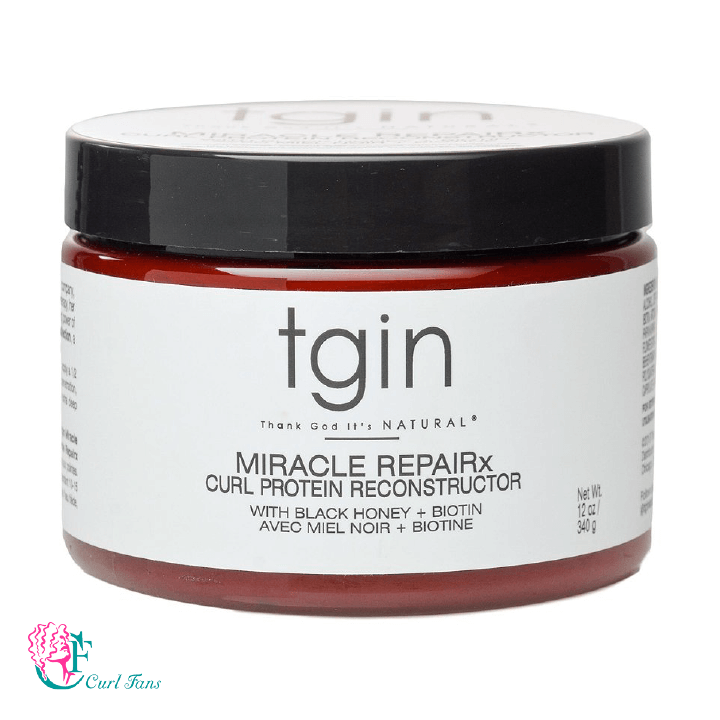 You feel no elasticity for your curls
Elasticity is a sign of healthy hair. To test your hair elasticity, grab a part of your curls and stretch them. If your curls spring back, then you have no elasticity issues. Over moisturizing can also affect your hair elasticity. One way that you can avoid this problem is to keep a balance between protein and moisture. If you want to add an amazing deep conditioner to your hair regimen, don't forget about INAHSI Restorative Hair Masque.
If you want more information about these signs, we have a post about them. Don't forget to check it out: Signs That Your Hair Needs Protein.
How often should I do a protein treatment?
The answer to this question depends on many factors such as your hair type and its condition. First, check the signs that I mentioned above. As a rule of thumb, you can do protein treatments every 2 months, but you can adjust depending on what results you get. Experiment with different schedules to find the best one for your hair.
If you have found any method that works for your hair, feel free to share them in the comments. This can be very useful for those who have your hair type. Have you ever tried a protein treatment for your curly hair? How often do you do it? Share your experience of protein treatments with us in the comments.