If you are trying to achieve a new style, you have probably familiar with curly hair shrinkage. After using lots of styling products and different methods, nothing is as much frustrating as shrinkage. This can be even more frustrating if your hair doesn't have a long length. If you want to know what causes shrinkage, and how to reduce it, this post is just for you.
Do you know what hair type you have?
It is really important that you know what type of hair you have. This can be helpful to find the best products suitable for your hair type. If you still don't know your hair type, take a look at Hair Type – Every Thing About It.
What is naturally curly hair shrinkage?
First of all, let me say that shrinkage is not a sign of unhealthy hair. And it is actually completely healthy. Shrinkage doesn't depend on your hair length, and it can happen to long or even short-length hairs. The shrinkage doesn't change your curl pattern, it just makes it tighter. The main concern for someone with curly hair is the length that is lost because of shrinkage.
What is the cause of hair shrinkage?
We can compare the shrinkage process to how a sponge works. When a sponge is wet, it expands. And when it loses its water, it goes back to its previous shape. Similar to the sponge, the hair gains and lose moisture. When you are drying your hair with a diffuser or just letting it air dry, you are removing moisture. This removal of moisture is what will cause shrinkage.
You can use shrinkage as a sign to see whether your curly hair needs moisture or not. If your hair is in its full length, this means that you don't need moisturization for now. But, if you are noticing lots of shrinkages, then it's time to use some moisturizing product. You can also spray water to refresh your curls.
Can I stop hair shrinkage?
Regardless of how healthy your hair is, it will always shrink to some extent. How much shrinkage occurs depends on a few factors: your curl pattern, how well you take care of your hair, how often you moisturize it, and which anti-shrinkage products you use at each stage of your hair care routine. You can take several steps to reduce shrinkage, but moisture is the main anti-shrinkage remedy.
Moisturizing is the key to less shrinkage.
As I mentioned above, moisture loss is basically what causes curly hair shrinkage. You can easily increase the amount of moisture to lessen the shrinkage amount. A good shampoo can really help you with this. You should use a shampoo that doesn't contain any sulfate. Sulfate and other harsh ingredients can remove natural oil from your scalp which leads to drying. And we definitely don't want our hair to get drier. If you want a great sulfate-free shampoo, try TGIN Rose Water Sulfate Free Hydrating Shampoo.
tgin Rose Water Sulfate Free Hydrating Shampoo
Don't forget about conditioning.
After using a sulfate-free shampoo to cleanse your hair, you need lots of moisturizing. Alikay Naturals Caribbean Coconut Milk Conditioner & tgin Triple Moisture Replenishing Conditioner not only condition and soften your hair but can also treat your damaged strands. If you want less shrinkage, never skip the conditioning part of your regimen.
Alikay Naturals Caribbean Coconut Milk Conditioner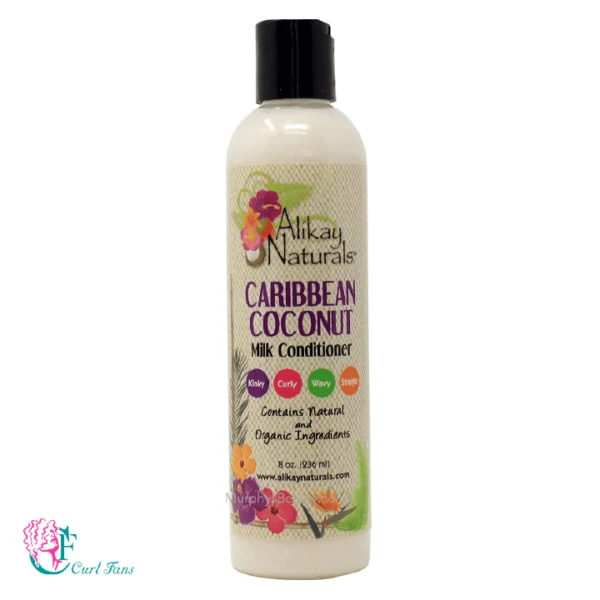 tgin Triple Moisture Replenishing Conditioner
Try LOC method to reduce curly hair shrinkage.
LOC or Liquid Oil Cream method is a way of using products in layers to provide the ultimate moisturization. This is great for those who are looking for a method for moisturization. With the LOC method, you apply the liquid to hydrate the hair, oil to lock in moisture, and cream to prevent moisture loss. The exact protocol you follow depends on your hair's porosity, which often indicates how thirsty it is. In contrast to other wash-and-go or styling methods that apply products without rhyme or order, the LOC method layers products carefully while maximizing moisture retention.We have a post about the LOC method, don't forget to take a look at LOC And LCO For Curly Hair.
Protect your hair while sleeping.
Even though you should cover your hair with a bonnet or scarf for bed, you can style it in a way that will keep curls loose. Sleeping on your curls has an impact not only on their appearance but also on their health. Gather your curls into a scrunchie at the top of your head if your hair is long enough to form a pineapple. In the morning, you'll take it down, and it will be stretched out and have more volume. Remember that shrinkage may seem frustrating, but it is not necessarily bad. It might temporarily interfere with your style goals. Still, overall it's a useful indicator of how well moisturized your hair is. ShhhSilk Silk Pillowcase is a great option if you are looking for a perfect pillowcase for your hair health. Also If you need a scrunchie check Flora & Curl Satin Scrunchies.
ShhhSilk Silk Pillowcase
Flora & Curl Satin Scrunchies