Coily hair is a subtype of the kinky hair family. It is the most fragile of all hair types because it lacks the needed cuticle layers to prevent dryness. If you have coily hair, you may face problems such as dryness, tangles, shrinkage, and also breakage. Choosing a suitable styling product can moisture your hair and bring it back to life. After reading Hair Type – Every Thing About It, if you want to get to know this hair type more, this post can help you with that.
How curls are formed?
Hair fundamental contains keratin, and protein which extends from the follicle. The cells of the hair follicle formulate keratins, and also other proteins. After the protein becomes a part of the hair shaft, two sulfur atoms connect together and shape a disulfide bond. If the two sulfur atoms in the same protein get too close to each other, the protein will curve accordingly. Therefore curls are made.
The hair that you were born with may change during your life. The number of disulfide links between hair proteins in the hair shaft will decide the amount of curl or wave of your hair. If there is a high number of protein links, your hair will be more curly.
Type 4A coily
If you have this type of coily, you have tight S shape curls. This type of texture can be something between wiry to finely-textured. One good thing about this type is that you won't probably need to define your curls. This gives you the freedom to let your curls free.
Type 4B coily
This type has curls with a Z shape. It has different varieties in thickness. Although it is soft, it can be very fragile. If you have this type of coily, you can experience shrinkage up to 75%. If you want to achieve a great look with this type of coily hair, try short dreads. This way you won't need too much maintenance too.
Type 4C coily
This type has Z shapes of curls just like the type 4b, but because it has many zig-zags, it looks like one shape. You can try classic hairstyles like a full-blown afro. This style is easy to achieve, and it is also a powerful symbol of confident self-expression.
Tips for maintaining coily hair:
Choose suitable products.
Coily hair is more prone to damage, and it is also more fragile than other hair types like curly hair, straight hair, and wavy hair. Don't rush when you are buying new products. If you don't choose the suitable and right products for your coily hair, you are not going to get the result that you are looking for. Check Harmful Ingredients Of Hair Care Products to learn more about harmful ingredients in hair care products and remember to patch test the new products you purchase.
Dilute shampoo for your coily hair.
If you want to reduce your coily hair frizz, one thing that you can do is to dilute your shampoo with a little amount of water. The best way is to apply the shampoo in a circular motion to the scalp. Diluted shampoo won't remove too much oil from your scalp which will provide healthier hair for you. If you are looking for a great shampoo, take a look at Alikay Naturals Caribbean Coconut Milk Shampoo & tgin Rose Water Sulfate Free Hydrating Shampoo.
Alikay Naturals Caribbean Coconut Milk Shampoo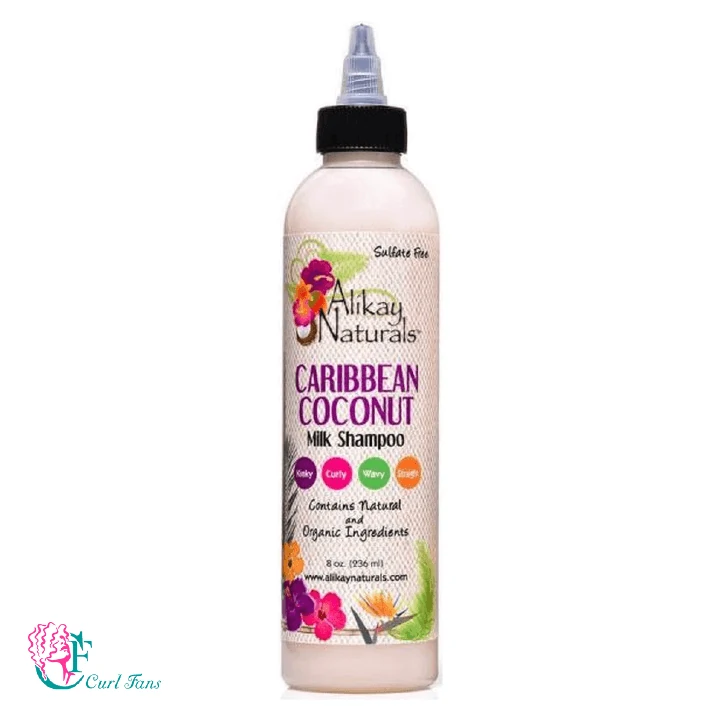 tgin Rose Water Sulfate Free Hydrating Shampoo
Avoid Excessive Shampooing.
Dryness is a common problem with curly hair. Over shampooing your hair can rob it of its natural moisture. Additionally, look for moisturizing ingredients in your conditioner. The purpose of conditioning is to seal your hair cuticle and protect it from environmental damage.
Start pre-poo treatment.
You may want to try using a pre-shampoo treatment if you have very coarse or curly hair. Despite popular belief, conditioning does not have to be done only after cleansing. You can use conditioner both before and after shampooing. The moisture in coarse, coily hair tends to evaporate quickly. Using a conditioner before shampooing protects the hair strand so that the shampoo won't strip it of its natural oils. You can check Pre-Poo – Every Thing About It if you want to learn more about this method.
Choose a suitable brush or comb for your coily hair.
Combing or brushing curly hair can cause it to break easily due to its dryness and brittleness. You can prevent breakage by brushing or combing curly hair in the shower. To break up knots, use a wide-tooth comb. Comb your hair while the conditioner is still in your hair to make it easier and ensure that all your strands are coated. Check Flora & Curl Gentle Curl Comb if you're looking for a perfect comb for your coily hair.
Flora & Curl Gentle Curl Comb
If you have found any method that works for your hair, you can share them in the comments. This can be very useful for those who have your hair type. Have you tried any methods or tips that we mentioned in this post? if so, tell us which one worked for your hair type.